Wild Thing by Camille Roskelly of Thimble Blossoms
So here goes my first/second review. This was supposed to be for January (yes it is now
February
March, but don't hold it against me...not this month anyway!), but I hit a couple of rough weeks in January and then we had
February's review
.
So here it is...finally. January's Review!!!

I decided to put together this pattern: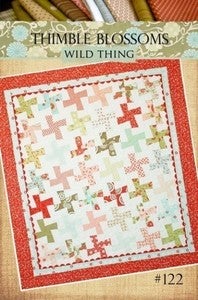 I've long been an admirer of
Camille's Blog
, since I stumbled upon her blog from another blog, and have been following her blog ever since.
Her blog is beautiful, so definitely check it out!
I know she likes this pattern a lot from
this post
and since reading that, I have wanted to put one of these together! That is why I went ahead and chose this for my first of 12 reviews this year!
Criteria 1:
Organization of Instructions
Layout
The instructions were organized very neatly from steps 1 through the end.
Diagrams are in appropriate spots.
Pattern is compact, using only two 8 1/2" x 11" pages and a 5 1/2" x 8 1/2" cover sheet, yet it is still thorough and easy to follow.
Storage
The traditional quilt pattern layout of this pattern leads to easy storage. The entire pattern folds down to
5 1/2" x 8 1/2" and is enclosed in the 5 1/2" x 8 1/2" sealed plastic bag,
Criteria 2:
Ease of Instructions
The instructions were very easy to follow.
Steps are simple and to the point.
Diagrams
Diagrams are drawn clearly and easy to find in regard to their instructions.
Are Additional Manuals Necessary
This pattern can stand on its' own.
If you have never pieced a quilt before you may want to learn about binding, but the pattern does include basic binding instructions.
Criteria 3:
Level of Experience Required
Beginner, Intermediate or Expert
This is easily a beginner quilt.
There are no extravagant or overly complicated techniques.
There are no corners or seams that need to be
perfectly
lined up for this pattern to not only work but also look good.
The end design leaves room for error, meaning that you can have a mistake here and there which will be barely noticeable.
Criteria 4:
Amount Of Time
I would say I spent a total of 8 hours putting this together.
That includes, cutting and ironing of course.
I would tack on another 2 hours for the binding.
So, by the time it is completely finished it will be about a 10 hour project for me.
Please keep in mind that does not count the actual quilting which I am thinking I may just hand quilt!!! : )
Criteria 5:
Repeatability
Would I make it Again?
Yes. I would use this pattern again,
however now that I know how it works, there are a few speed piecing methods I would implement, just to make it go a little quicker.
Would I recommend this to family, friends or other quilters?
Yes.
The pattern was fairly quick, fun and easy.
Criteria 6:
Final Thoughts and Personal Experience
I really loved the end result of this quilt.
I mean, it still needs to be quilted and then bound, but as far as the piecing goes, the total quilt and the end result was really fun!
I get a little smile whenever I look at this top!
I especially loved combining the Sanctuary print from Patty Young's line with the Fandango prints. The look it gave was really great!
And now for the giveaway!!
This month I have two Bliss charm packs (Bonnie & Camille's latest, released, fabric line) ...
these are hard to come by, by the way!
So the winner can make their own Wild Thing quilt, if they want. :)
To enter:
1. Leave a comment. Any comment. Maybe you would like to suggest other criteria? Or have a question about this pattern?
2. For a second chance to win, blog about this giveaway and then come back and leave a link to your blog.
Winner will be randomly drawn on Friday, March 18th!